Old Mill in 1969
WHY OLD MILL?
Old Mill Pontiac dealership opened in 1947 at 2500 Bloor Street West in beautiful Toronto West. The dealership was purchased in 1984 by a young entrepreneur, Lou Vavaroutsos. In 1991, Old Mill was awarded the prestigious Cadillac line of vehicles. Honesty, integrity and respect are the pillars of Lou's vision, and this is the way Old Mill GM sells and services cars every day. Twenty-seven years later, they are still the same business philosophies. We are #1 in Customer Satisfaction in Service and we are very proud.
Lou Vavaroutsos was born in Greece, grew up in Australia and came to Canada in the late '60's. He worked for a dealership near his home and became a Grand Sales Master in no time. Not knowing anyone in Toronto, he began to knock on doors and build his clientele. From there he became a Sales Manager and then General Sales Manager, with hopes and dreams that he would one day open his own car dealership. When he purchased Old Mill, they were losing money. Within one year, he turned the dealership around. He continued to excel and became one of the largest volume dealers in Toronto,.
Old Mill in 2009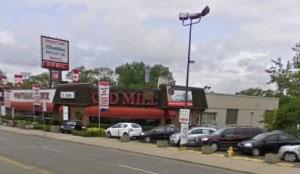 The New Old Mill
Recently Old Mill re-located the dealership approximately 1.5 km's from the old location. Old Mill was the first new imaged GM Dealership in North America following the reinvention of GM, and the restructuring of its dealer network. On December 15th 2010, Old Mill announced the Chevrolet line of vehicles and proudly became a full line General Motors dealership selling Cadillac, Chevrolet, Buick and GMC.
In the summer of 2011, Old Mill took a new leap forward by adding a media department, rebuilding their websites and adding social communication into its day to day operations. At this time, The Old Mill Advantage was built by adding partnerships with Aeroplan – loyalty rewards program, Walkaway – complimentary first year vehicle insurance and a corporate partnership with SickKids Foundation where a portion of vehicle sales goes directly to support SickKids. Customers of Old Mill are not just buying or servicing their vehicle… they are experiencing a store that offers and cares more than anyone else. Now, as Chevrolet celebrates their 100th Anniversary, Old Mill Celebrates their 65th Anniversary. Most impressive is that Old Mill is one of the oldest General Motors Dealerships in the great city of Toronto!
The Full Line Old Mill GM Showroom in 2011
Old Mill's story is one of honesty, integrity and respect. Lou has always treated his customer's as if they are guests in his home. When customers experience the Old Mill advantage, they understand why Old Mill is the "Cadillac" of dealerships. The team is proud, the dealership is beautiful and customers are number one!
Here's to the next 65 years…